Unison Alberta in partnership with Bridge to Oasis (BTO) Foundation is educating Afro-Canadian seniors and their caregivers on what Elder Abuse look like.
We are collaboratively working to serve the black communities to identify and address elder abuse while also directing them, their families and friends to resources available to support them in cases of financial, physical, emotional and other forms of abuse.
For this first event, BTO Foundation and Unison Alberta are sharing our resouurces with members of the community so we can get feedback and other information to be incorporated in our Elder Abuse programs as we improve content in several languages to serve varying population of older adults
Date: August 23 2023
Time: 5.30 PM
Where: Online
BTO Foundation contact information
Bukola Ojemakinde, 403 561-0765
Rabi Ohiomah, 403 971-6551
ZOOM MEETING LINK
https://us02web.zoom.us/j/88614454908
Meeting ID: 886 1445 4908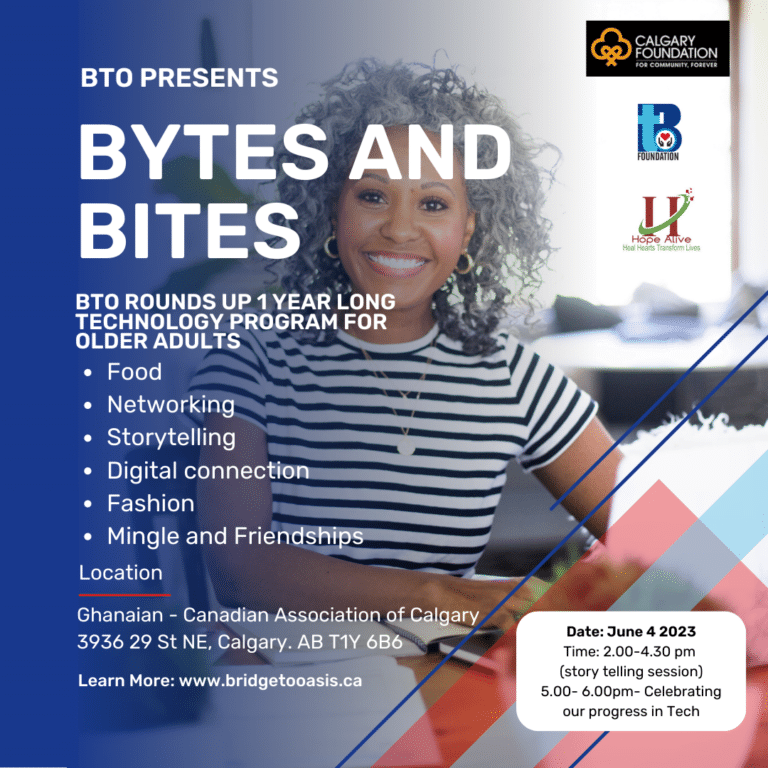 Bytes and Bites: BTO rounds up 1 year long Technology program for older adults:
Food
networking
Storytelling
Digital connection
Fashion
Mingle and Friendships
Date: June 4 2023
Time: 2-4.30 pm (story telling session)
5.00- 6.00pm- Celebrating our progress in Tech
Location: Ghanaian – Canadian Association of Calgary
3936 29 St NE, Calgary. AB T1Y 6B6
#blackseniorscanada
#blackpeople #seniorcitizen #yycseniors #yyc #seniorscommunity #olderadults #agewisely #60+
It is important to recognize that many black seniors do face challenges when it comes to using technology, and to work towards finding solutions that can help overcome these barriers.
This may include providing technology training programs, improving access to affordable devices and internet service, and developing assistive technologies that can help seniors with physical limitations use technology more easily.
April 10th let's talk about online elders abuse, cybersecurity and avoiding scams.
#blackseniorscanada#blackpeople #seniorcitizen #yycseniors #yyc #seniorscommunity #olderadults #agewisely #60+
Happy to had Dr. Yvonne and Lola share their expertise on the best ethnocultural foods Seniors can enjoy and how to eat it healthy. Bukola also presented on Emergency preparedness for older adults and their caregivers. It's long overdue to give our seniors the love, respect and care they deserve.
Fun games and technology over a thanksgiving dinner
BTO Foundation Donates laptops and launches Technology Training for seniors
Through funding received from Calgary Foundation and ~ 100 laptops donated by Suncor Energy, our organization has been providing technology training and resources to seniors from the Afro-Canadian communities in Calgary, Edmonton and Fort MacMurray.
BTO Foundation has now served over 250 Seniors who have heritage and cultural connections to different countries including Barbados, Canada, Congo, Ghana, Jamaica, Nigeria, Sierra Leone, St Lucia, Sudan, Trinidad and Tobago, Venezuela, Zimbabwe, and others.
Seniors Grocery Drive
In June 2021, Bridge to Oasis Foundation donated grocery hampers to approximately 20 seniors within the Black and African communities.
We are thankful to "The Calgary Foundation" for their generous donation to execute this project.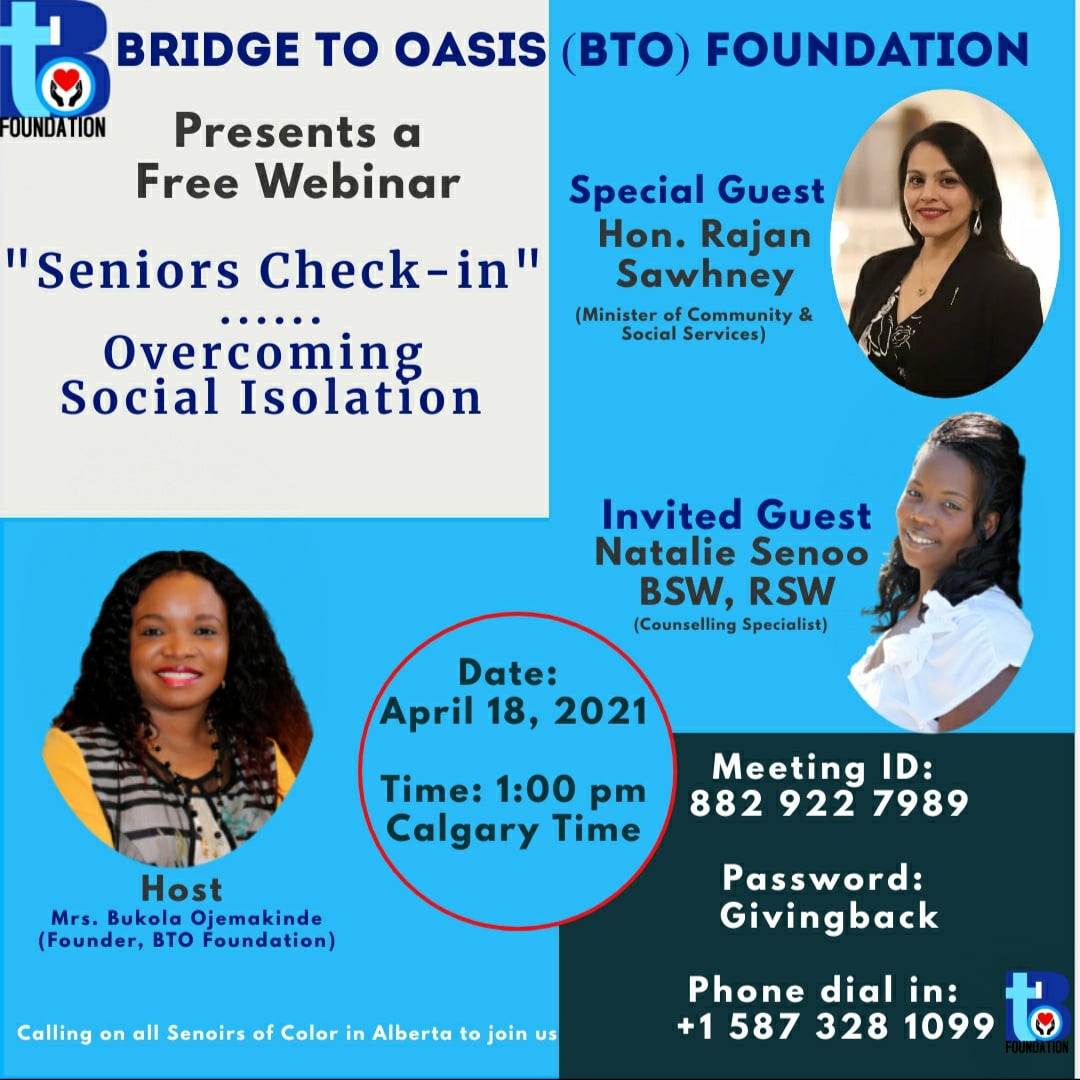 In this webinar we've invited Black and African seniors, …..